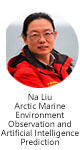 Dr. Na Liu, First Institute of Oceanography, Ministry of Natural Resources (Invitation talk) (On-line)
Presentation title: Arctic Marine Environment Observation and Artificial Intelligence Prediction
Abstract: In view of the strategic significance of the Arctic in navigation, climate and ecological protection, the Arctic Ocean has attracted much attention. The development of observation capability of Arctic marine environment is the basis of understanding the rapid change of the Arctic, serving the scientific issues related to waterway utilization, climate change and promoting ecological protection. This report will focus on the current situation and development of the Arctic marine environment observation, as well as the Arctic artificial intelligence prediction closely related to the real-time transmission of the Arctic marine environment observation.
Personal profile: Liu Na, Female, Doctor of physical oceanography, is mainly engaged in the investigation and research of Arctic marine environment. She led and designed 11 Arctic scientific expedition hydrological survey projects, realizing of long-term array observation of China's Arctic mooring, initially establishing the Arctic hydrological environment technology and observation system. Change of the Arctic Ocean and sea battlefield environment were studied by using the observation data obtained by China. She has won 5 provincial and ministerial awards for Arctic survey, presided over more than 40 scientific research projects, published more than 80 academic papers, published 1 Technical Specification for Arctic survey, 9 monographs and 15 patents. More than 20 doctors and graduate students have been trained.
论文在线提交


*The submission system will keep open!
Important Dates
Abstract submission date:
May. 9, 2021
Full paper submission date:
May. 20, 2021
Notification of acceptance date:
May. 30, 2021
Final paper submission date:
June. 10, 2021
Sponsors
Harbin Engineering University
IEEE Oceanic Engineering Society