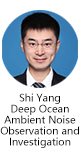 Full Name: Dr. Shi Yang
Affiliation: Northwestern Polytechnical University
Presentation title: Deep Ocean Ambient Noise Observation and Investigation
Summary of the presentation: Ocean ambient noise is an important interfering ambient field of the ocean and has significant impacts on sonar systems. Investigating characteristics of deep ocean ambient noise is of great importance for scientific significance and application value. The characteristics and spatial and temporal variations of ocean ambient noise are investigated base on the experiments conducted in the South China Sea and the West Pacific Ocean.
Personal profile:Shi Yang is now the associate professor at the School of Marine Science and Technology in Northwestern Polytechnical University. His research interests are ocean ambient noise, dynamic ocean acoustics and Maritime information transmission. He is now undertaking a number of scientific research projects, including National Natural Science Foundation of China and China Postdoctoral Science Foundation. More than 20 journal and conference papers have been published including Journal of the Acoustical Society of America and JGR Oceans.
论文在线提交


*The submission system will keep open!
Important Dates
Abstract submission date:
May. 9, 2021
Full paper submission date:
May. 20, 2021
Notification of acceptance date:
May. 30, 2021
Final paper submission date:
June. 10, 2021
Sponsors
Harbin Engineering University
IEEE Oceanic Engineering Society