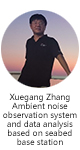 Full Name: Prof. Xuegang Zhang
Affiliation: Dalian Institute of Measurement and Control Technology
Presentation title: Ambient noise observation system and data analysis based on seabed base station
Summary of the presentation: There are many influencing factors of ambient noise, so it is necessary to establish long-term and multi-factor observation methods for research. The report introduces the ambient noise and synchronous environmental observation system based on seabed base station, analyzes the measured data of a sea area for 20 consecutive days, gives the spectral characteristics/statistical characteristics of ambient noise in the test sea area and the correlation between ambient noise and wind, current and other factors, and gives some correlation analysis results when Typhoon Lichma transits.
Personal profile:Dr. Zhang Xuegang is the deputy director of the National Key Laboratory of Underwater Measurement and Control Technology, professor, master tutor, doctoral candidate, mainly engaged in Marine acoustic environment characteristics. As the chief scientist, he has presided over the completion of 4 major national special tasks. As the project leader, he has undertaken a number of projects such as foundation strengthening, national key research and development plan,, and pre-research of the "13th Five-Year Plan". It has won 10 provincial and ministerial awards, 11 authorized invention patents and 1 utility model patent. Currently, he is a member of an expert group in the Innovation Special Zone, an expert of "Marine Environment Expert Database", a member of the Academic Committee of the Key Laboratory of Underwater Acoustic Environmental Characteristics, Chinese Academy of Sciences, the Key Laboratory of Marine Exploration Technology, Ministry of Natural Resources, and a member of the Military Oceanography Committee of the Chinese Society of Oceanography.
论文在线提交


*The submission system will keep open!
Important Dates
Abstract submission date:
May. 9, 2021
Full paper submission date:
May. 20, 2021
Notification of acceptance date:
May. 30, 2021
Final paper submission date:
June. 10, 2021
Sponsors
Harbin Engineering University
IEEE Oceanic Engineering Society