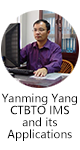 Full Name: Prof. Yanming Yang
Affiliation: Third institute of oceanography, Ministry of natural resources
Presentation title: CTBTO IMS and its Applications
Summary of the presentation: The International Monitoring System (IMS) of Comprehensive Nuclear-Test-Ban Treaty Organization (CTBTO) is briefly overviewed. The application cases of the hydroacoustic observation system in the monitoring of North Korean nuclear tests, the search for sunken Argentine submarine and the observation of submarine volcano are presented. The capabilities of the system are prospected.
Personal profile:Yang Yanming (born in 1966) received the Ph.D. degree of Xiamen University in 1996. He is a research Prof. and the director of ocean acoustics and remote sensing Lab. in third institute of oceanography, ministry of natural resources, China. He is a member of expert committees of two state special task projects. He is a member of editorial board of Chinese Journal of applied oceanography.
He has undertaken dozens of the National Natural Science Foundation of China, national key research and development plan, national major task project and provincial and ministerial projects. He has published dozens of scientific papers and two monographs. He has won seven times of provincial and ministerial level awards of science and technology progress, including one time outstanding award, four times first grade awards and two times second grade awards. He was authorized several national invention patents and practical new model patents on ocean acoustic technology.
论文在线提交


*The submission system will keep open!
Important Dates
Abstract submission date:
May. 9, 2021
Full paper submission date:
May. 20, 2021
Notification of acceptance date:
May. 30, 2021
Final paper submission date:
June. 10, 2021
Sponsors
Harbin Engineering University
IEEE Oceanic Engineering Society