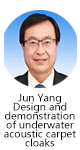 Prof. Jun Yang, Institute of Acoustics, Chinese Academy of Sciences (IACAS)
Presentation title: Design and demonstration of underwater acoustic carpet cloaks
Abstract: The carpet cloak, which is designed to hide the objects placed on a reflecting surface, has become a topic of considerable interest. Here, we design and fabricate realizable 2D and 3D underwater acoustic carpet cloaks. By introducing scaling factors, a modest impedance mismatch is brought in to simplify the structure of these carpet cloaks. We investigate their effectiveness through experiments in the anechoic water tank. The experimental results demonstrate that these carpet cloaks can hide the information of the bump on the reflecting plane in a wide frequency range. This may bring great potential engineering applications in the practical underwater devices.
Personal profile: Dr. Jun Yang is the Distinguished Professor of Chinese Academy of Sciences (CAS) and the Deputy Director of Institute of Acoustics, Chinese Academy of Sciences (IACAS). He obtained the Ph.D. degree in acoustics from Nanjing University, China in 1996. He was with Nanyang Technological University (NTU), Singapore, as a research fellow, a teaching fellow, an assistant professor, and an associate professor in 1999, 2001, 2003, and 2005, respectively. Since Nov. 2004, he has been a professor at IACAS.
Dr. Jun Yang has contributed significantly to acoustics research and education. He has published over 400 journal and proceeding papers, and has been granted more than 40 patents. Many of his research results have been used in practical applications. He won the IES Prestigious Engineering Achievement Award in 2001, Gold Award in Technology Exhibition at NTU for developing "Audio Beam Loudspeaker" in 2004, Excellent Paper Award for 5 times. And the Award of Excellence in the final evaluation of "CAS Hundred Talents Program" in 2008. Recently, he obtained the Pollyanna Chu Outstanding Teacher Prize in 2014 and 2020 respectively, Excellent Scientist Award by the Chinese Institute of Electronics in 2015, Excellent Graduate Advisor Award by CAS in 2016, the title of "State Council Expert for Special Allowance" in 2018, and the second prize of Beijing Science and Technology Progress Award in 2020.
Dr. Jun Yang is a Fellow of the International Institute of Acoustics and Vibration (IIAV), Acoustic Society of China (ASC), and Chinese Institute of Electronics (CIE). He is an Executive Director and Vice Secretary-General of ASC, and chairs the Audio Engineering Society of China (AESC).

论文在线提交


*The submission system will keep open!
Important Dates
Abstract submission date:
May. 9, 2021
Full paper submission date:
May. 20, 2021
Notification of acceptance date:
May. 30, 2021
Final paper submission date:
June. 10, 2021
Sponsors
Harbin Engineering University
IEEE Oceanic Engineering Society