Prof. Charalampos Tsimenidis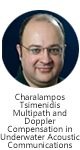 Full Name: Prof. Charalampos Tsimenidis
Affiliation: Newcastle University, UK
Presentation title: Multipath and Doppler Compensation in Underwater Acoustic Communications
Summary: In recent years, there has been an immense interest in remote control and telemetry applications, whose principal function is to achieve reliable communication both in point-to-point links, and in network scenarios. The focus of this presentation will be on the state-of-the-art methods that compensate for these effects for single and multi-carrier underwater acoustic communications systems.
Personal profile:He is the leader in Digital Communications in the School Engineering at Newcastle University. His main research expertise and interests are in the area of adaptive array receivers for wireless communications. He is now the Head for the Intelligent Sensing and Communications Group at Newcastle University. He is a senior member of the IEEE and a member of the IET.

论文在线提交


*The submission system will keep open!
Important Dates
Abstract submission date:
May. 9, 2021
Full paper submission date:
May. 20, 2021
Notification of acceptance date:
May. 30, 2021
Final paper submission date:
June. 10, 2021
Sponsors
Harbin Engineering University
IEEE Oceanic Engineering Society