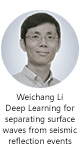 Full Name: Weichang Li
Affiliation: Aramco Houston Research Center, USA.
Presentation title: Deep Learning for separating surface waves from seismic reflection events
Summary: We have developed a method to combine unsupervised and supervised deep learning for seismic ground-roll attenuation. Test results on field seismic records demonstrate the effectiveness of the proposed method in preventing signal leakage and removing ground-roll from seismic data.
Personal profile:Weichang Li is currently the head of the Machine Learning group. His current research focus is on machine learning, statistical signal processing algorithm research and applications in geophysics, geosciences, and energy engineering problems.

论文在线提交


*The submission system will keep open!
Important Dates
Abstract submission date:
May. 9, 2021
Full paper submission date:
May. 20, 2021
Notification of acceptance date:
May. 30, 2021
Final paper submission date:
June. 10, 2021
Sponsors
Harbin Engineering University
IEEE Oceanic Engineering Society