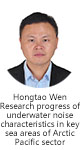 Dr. Hongtao Wen, Third Institute of Oceanography, Ministry of Natural Resources, PRC (Invitation talk)
Presentation title: Research progress of underwater noise characteristics in key sea areas of Arctic Pacific sector
Abstract: The Bering Sea, the Chukchi plateau and its northern Center Arctic Ocean are important passages for China to enter the Arctic from Pacific. Based on the data of the 8th to 11th Arctic expedition in China, the characteristics of underwater noise in these key sea areas were studied. The monthly and seasonal variation characteristics of underwater noise and its response to environmental parameters such as sea ice, sea surface wind and sea surface temperature were analyzed.
Personal profile: Dr. Hongtao Wen is an associate professor of the third Institute of Oceanography, Ministry of Natural Resources, mainly engaged in Arctic acoustic research and ocean acoustic investigation. He has participated in the 8th Chinese National Arctic Research Expedition, which is the first environmental survey around the Arctic Ocean. He once served as the chief scientist of the major national special ocean acoustic investigation and research task, and accumulated more than 600 days of Arctic expedition and deep-sea investigation. He has won first prize of marine science and technology award, MNR, 2018 (Ranking the second). As the project leader, he has undertaken over 12 national, provincial and ministerial level projects, including National Key R & D program of China, National Natural Science Foundation of China, national special projects and Natural Science Foundation of Fujian Province of China, and so on. More than 50 papers have been published, including 20 SCI or EI papers.
论文在线提交


*The submission system will keep open!
Important Dates
Abstract submission date:
May. 9, 2021
Full paper submission date:
May. 20, 2021
Notification of acceptance date:
May. 30, 2021
Final paper submission date:
June. 10, 2021
Sponsors
Harbin Engineering University
IEEE Oceanic Engineering Society