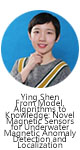 Prof. Ying Shen, Harbin Engineering University (Invitation talk)
Presentation title: From Model, Algorithms to Knowledge: Novel Magnetic Sensors for Underwater Magnetic Anomaly Detection and Localization
Abstract: As a result of magnetization by the Earth's magnetic field, a moving metallic material can create distortions in the local geomagnetic field. The movement of different ferromagnetic objects manifest themselves as unique identifiable voltage signal at the magnetic sensor's output. The magnetic signal profiles in time and space are termed as the magnetic anomaly signature feature, which is essential target detection information. Current magnetic anomaly signal analysis method largely focuses on the improvement of the SNR of the original signal. However, it does not take into account the credit of other potential features for the detection and recognition of the cryptic target. In response to this problem, I propose to develop a comprehensive analytical method for interpretation of the rich information of the magnetic anomaly signature characteristics. Firstly, based on power spectrum density analysis method, the frequency band of the anomaly vector signal is determined, which leads to develop an adaptive filter to obtain the fingerprint characteristics. Secondly, based on the magnetic anomaly signature feature interpretation method, the relationship is analyzed between the motion characteristics of different objects (including motion velocity and relative distance) and the signature waveforms. Finally, a waveform pattern matching algorithm is proposed to infer the magnetic moment orientation (MMO) by calculating the signal energy distribution along each axis. This study aims to pave the way for analysis of the dependence between the magnetic anomaly signature features and the moving behaviors of the target.
Personal profile: Dr. Ying Shen, professor in the College of Acoustic Engineering at Harbin Engineering University. Dr. Shen received her Ph. D degree in Material Science and Engineering and Master Degree in Biological System Engineering from Virginia Tech in 2010 and 2014, respectively. Her research is mainly in the fields of magnetic anomaly detection, methods for target localization, and remote sensing and magnetometry. Dr. Shen has published 38 SCI papers, such as IEEE Geoscience and Remote Sensing Letters, IEEE Electron Device Letters, Smart Material and Structures and Applied Physical Letters.

论文在线提交


*The submission system will keep open!
Important Dates
Abstract submission date:
May. 9, 2021
Full paper submission date:
May. 20, 2021
Notification of acceptance date:
May. 30, 2021
Final paper submission date:
June. 10, 2021
Sponsors
Harbin Engineering University
IEEE Oceanic Engineering Society