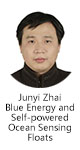 Prof. Junyi Zhai, Beijing Institute of Nanoenergy and Nanosystems, CAS (Invitation talk)
Presentation title: Blue Energy and Self-powered Ocean Sensing Floats
Abstract: Oceans cover about 70% of Earth's surface. Wave energy is plentiful day and night, whatever the weather. Yet hardly any of this wave energy is being generated. Triboelectric Nanogenerator (TENG) can effective convert ambient mechanical energy to electrical energy based on the coupling of triboelectrification and electrostatic induction. Comparing to traditional electromagnetic generator, TENG shows excellent performance at low frequency, especially under 5 Hz. By various special designing and packing, TENG made by use lightweight organic and metal materials, can harvest ocean wave energy everlastingly. To achieve high energy harvesting, TENG units can be connected as a network toward large-scale blue energy harvesting from the ocean. As the frequency of ocean wave is less than 1 Hz, TENG shows great advance in collecting ocean wave energy.
Marine monitoring is important to ocean transport and ocean resource development. Although satellite can provide some ocean information, it cannot offer precise on-site data such as salinity, etc. Floats with sensors could detect all kinds of on-site information and transmit detailed information to satellite for real time analysis. As the sensing floats should work in the middle of ocean for longtime, it is hard to change battery at regular intervals, thus floats should possess the ability to collect energy from the environment. Here, we demonstrate a self-powered ocean sensing float, it can sense ambient information and transmit information once per minute by using a small group of TENG units.
Personal profile: Junyi Zhai is a professor and director of Scientific Research Office of Beijing Institute of Nanoenergy and Nanosystems, Chinese Academy of Sciences. In July 2001 and July 2004, he received a bachelor's degree from the Department of chemistry and a master's degree from the Department of materials science and engineering, Tsinghua University. He then went to the United States to study, and received a doctorate in materials science and engineering from Virginia Tech in February 2009. In April 2009, Dr. Zhai was awarded director's postdoctoral fellowship in Los Alamos National Laboratory. His work is focus on energy harvesting, self-powered sensing and systems, new multi-functional electronics and optoelectronic device and applications. So far, he has published over 100 research papers in SCI journals such as Science Advances, Advanced Materials, Applied Physics Letter, etc., with more than 5000 citations. The H-index of these papers is 46.

论文在线提交


*The submission system will keep open!
Important Dates
Abstract submission date:
May. 9, 2021
Full paper submission date:
May. 20, 2021
Notification of acceptance date:
May. 30, 2021
Final paper submission date:
June. 10, 2021
Sponsors
Harbin Engineering University
IEEE Oceanic Engineering Society